upholstery mattelasse "Derby" #813253N - painted in 3 different reds with Dye-Na-Flo
As you can see, this vest has a standard notched collar that has been rounded to mimic a shawl collar; but it is made of two pieces and swings out to 1/2 way across the shoulder line. The crossover hits at about armpit level. It's double breasted with 3 rows of buttons and two flap pockets that are set midline to the lowest set of buttons. The length is about mid-hip level. there are no signs of front fitting darts.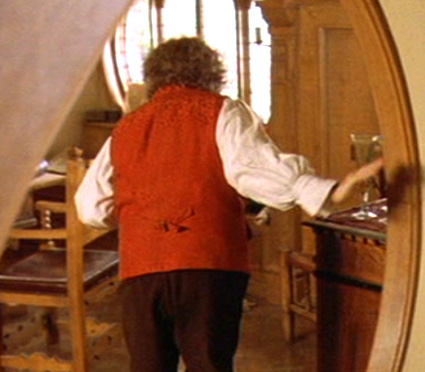 You can see in this back shot, the wrinkles at the neckline are from the actor reaching backwards - not any sort of gathering at the neck. There is a center back seam and a back adjusting belt that hangs loosely. The belt appears to be tacked at the ends, not coming out of any darts or p-seams. There appear to be no shaping darts or extra seams here. So there are just the two front panels, two back panels, collar and back belt. And from the scene with Gandalf's numinous growth, the front corner of Bilbo's vest flips up in the wind so we can tell that at least the front facing is the same fabric. Whether it is entirely self-lined, or simply self-faced, we cannot judge.

Trousers

Bilbo's trousers are the same drop-front breeches worn by all the hobbits. However, Bilbo is a rich, gentlehobbit who is not likely to wear such banal fabric as linen or wool. Oh no, Bilbo has velvet trousers! In charcoal grey. How convenient, Denver Fabrics has the most luscious
Italian cotton velvet
in charcoal grey. The trousers, although we never see the top since the waistcoat covers it at all times, may be assumed to follow the same pattern as Frodo's: two flap buttons on each side, self covered (I'm betting these buttons probably aren't functional, but rather attached to the top and the trousers have a more prosaic movie closure of either velcro, snaps or hooks and eyes underneath. Mustn't risk popping a button!) and side slit pockets. Also, while most sewing patterns for drop front breeches have a waist band, hobbit trousers do not. Neither do they have any adjusting lacing at the small of the back. There is, however, a small V-notch in the center back and the X-back suspenders button on. Bilbo also has fancy grey shank buttons with gold roping around on the side hems. At the moment I'm planning on using the pattern from Simplicity's Pirates of the Carribean set (Simplicity 4923). There was a Victorian men's pattern that I also considered, but I felt it would be easier to make the pirate trousers a little longer (with no knee band) and they looked a little straighter legged than the Victorian which looked a little more tapered. Otherwise, the construction on them looked pretty much the same.
The mockup is almost ready to cut to the velveteen, and I've got some really cool buttons painted up for the legs. Still have to adapt the suspenders.

Jacket
Analysis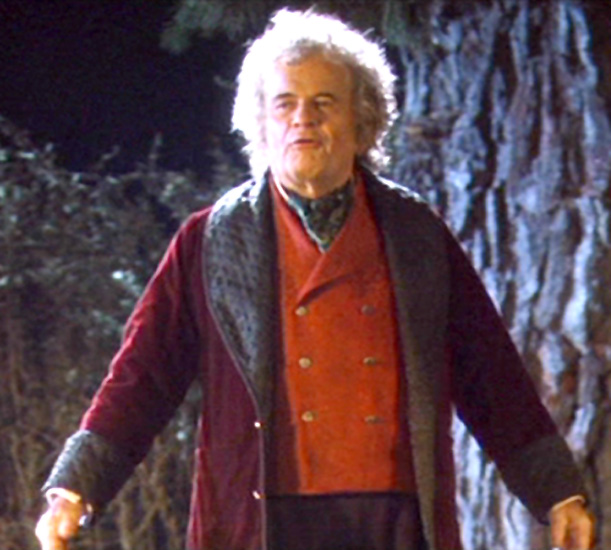 Bilbo's
party jacket resembles a Victorian smoking jacket from the front. It has a simple single breasted front with two gold buttons and a shawl collar.
The top button is almost level with the middle wasitcoat button and the lower one at the bottom edge of the waistcoat
. The cuffs are not simply turned back, but are backed with the same quilted fabric as the outer view. The collar and cuffs are made with a quilted silk jaquard that is actually a shot silk (changeable silk, iridescent silk - pick your prefered term) of green shot with gold and quilt stitched with gold. And the entir
e jacket and cuffs are edges w
ith the same shade of greeny-gold rope piping. The jacket itself is maroon velvet.

The front of the jacket is fairly simple: no darts or additional seams. The sleeve appears to be a single piece sleeve rather than a more common 2-piece coat sleeve. The back of the jacke
t, however, may be a bit more involved. And here we differentiate between the movie and the Toybiz figure. The Toybiz action figure of "Party Bilbo" indicates that the back of the jacket has a belt with two gold buttons, although when Bilbo turns to hide from the S-Bs no such belt is in site. The action figure also indicates a center back vent. Th
is is up for debate. I
s that dark line a center vent, or just a fold? In other shots, there's no sign of it, but this looks awfully dark to be a fold. And see? no back belt.

The other issue up for debate is the piecing of the back. Unfortunately much of the scene is in somewhat soft focus, and velvet 'eats' seams. Is that a princess-seam
lin
e coming off the armscye a
nd allowing some flare over the hips? The wrinkles looks suspicous, but other shots indicate a smooth back line. Here's a shot of him extending his arm: clearly it is a one-piece sleeve (the second seam would show here), but is that really a princess-seam coming off the armscye, or an artifact?

Mockup



Denver Fabrics (since I was buying the charcoal velvet) didn't have a maroon velvet, but they did have a raspberry. While the raspberry is way too pink to match the movie color, Jonatha (bless her heart!) was already dying some other fabric bronze for me and said that if we (she!) overdyed the raspberry at the same time, it would deepen the color and turn it very close. Close! It looks like an exact match to me. Incredible. And it still has the luscious feel of cotton velvet. The lining fabric has been a little more difficult. I have not been able to find the original fabric (even if I could get it, which I likely couldn't) since most shot silk is taffeta and not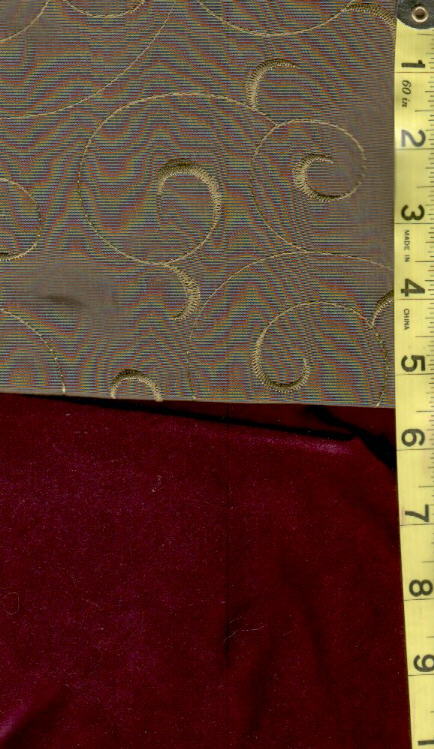 jacquard woven, and silk jacquards are not usually shot. Maybe she had it custom woven? So the decision was which is more important: the iridescent quality, the color or the pattern. There are many swirly fabrics out there, I found quite a few. Thai Silks has a nice silk jacquard in a swirly pattern that was deemed to be really close to the pattern used, but it would need to be dyed and would come out flat and not have the iridescence of the shot weave. Joann Fabrics carries a polyester (Signature Silkessence - upholstery weight) that has a slightly bigger swirly pattern embroidered on (rather than woven in) and actually does come in an olivey green shot with gold. So it looks like I'm going with the poly so I can have a close pattern with the right color and changeable quality. I'll have to give on the fiber since I don't think a flat color would look better even if it we
re silk.
The pattern is likely to be quite a mix. After all, Bilbo's jacket front is very plain: no shaping at all, and that can be from either an interesting women's coat (Butterick 4354) or a Simplicity smoking jacket (However, I used my mother's old out of print Simplicity 7075 shawl collared jacket). But the back has a lot of fitting issues- whether there is a back vent or not, and whether there are princess seams in the back or not. To get a fitted back and a plain front will take fussing with two different patterns. probably. At least there's only the 1 underarm seam. So we'll see, I haven't gotten that far.

Final Bits
Of course Bilbo's hair is not the same style as mine (even if the color is almost close). I found a wig online that looked possible. Wellll, it's a little short but the color is good. So we'll see. I also found a wig at a store that might be better, but I've already spent $50 on the first wig and since they aren't returnable I'm not sure I want to buy another. Luckily the one from the dance store is only $20. We'll see.
And there is the furry feet issue. I've already made foot-wigs for Dora Took, so that's really pretty easy. I'll need to make another pair in a whiter color for Bilbo. It's just a matter of putting a good movie or two in the dvd and sitting down with the knit-picker (micro latch-hook tool) and latch-hooking hair/wool onto some netting. The ears I still have from Lederkram (wonderful hobbit ears!). And of course I need to find a green paisly scarf for the ascot. That shouldn't be too difficult, I'll just have to actually go into a store and look!
So this is progress so far. It's coming along.
last updated